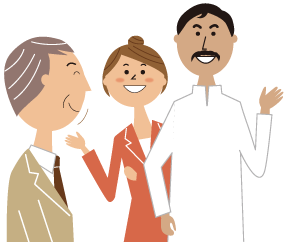 At the Yamaguchi International Exchange Association, we provide translation and interpretation supporters for foreigners needing these services.
Request for translation/interpretation
Fill out and send in the Translation/Interpretation Supporter Request Form (Requester → YIEA)
Request is sent to registered supporters (YIEA → Supporters)
Response from supporter(s) accepting or declining the request (Supporters → YIEA)
Introducing the supporter(s) who accepts the request to requester (YIEA → Requester)
Meeting about the translation/interpretation details (Arranged directly between requester and supporter(s).)
Translation/Interpretation service in progress
Turning in a Service Report Form (Requester → YIEA)
Once a supporter(s) accepts the request, we will send you his/her contact information. Please contact the person yourself and explain your request in more detail.
Please contact us for information about the availability of translation/interpretation supporters by phone, email, or in person before sending a Translation/Interpretation Supporter Request Form.
We kindly ask for your understanding that there are times when we are not able to provide a supporter.
Request Form
Report Form
Guideline
Number of Translation/Interpretation Supporters
| Language | Number of Registered Supporters |
| --- | --- |
| English | 79 |
| Chinese | 27 |
| Korean | 20 |
| Spanish | 10 |
| French | 7 |
| Vietnamese | 4 |
| Indonesian | 2 |
| Thai | 2 |
| Tagalog | 2 |
| Sinhala | 1 |
| German | 1 |
| Nepali | 1 |
| Portugal | 1 |
| Malay | 1 |
| Russian | 1 |
Updated on 2019.11.1
Overlap in Registered Supporters Possible
Contact Us
Yamaguchi International Exchange Association(YIEA)
3rd Floor, 1-7 Mizunoue-cho, Yamaguchi City, Yamaguchi Prefecture, 753-0082
TEL:083-925-7353
FAX:083-920-4144
Email: