We held a disaster preparedness workshop for foreign nationals.
On Saturday, January 9th, we held the Disaster Preparedness Workshop for Foreign Nationals joint with Shimonoseki City. On that day, 22 foreign residents from South Korea, China, Malaysia, Indonesia, and Saint Vincent participated.
At the disaster preparedness workshop, we had a presentation from the staff from Shimonoseki City Government's Safety and Disaster Prevention Unit who showed previous disasters that have occurred in Yamaguchi Prefecture, daily ways to prepare for disasters, etc., and then presented emergency supplies that would be useful during a disaster. In addition, we tasted emergency rations such as instant rice and canned bread.
Participants had questions and comments such as wanting to know more about how to use the Disaster Emergency Message Dial service (171), feeling that people should have more knowledge about how to prepare for disasters in daily life, being aware of disasters after participating in the workshop, learning things that he didn't know about in his own country, learning why Japan has many disasters, etc. What left the most impression on me was that everyone listened to the lecturer attentively and seriously.
Thank you Shimonoseki City Government's Safety and Disaster Prevention Unit and the International Division of Shimonoseki City for your efforts.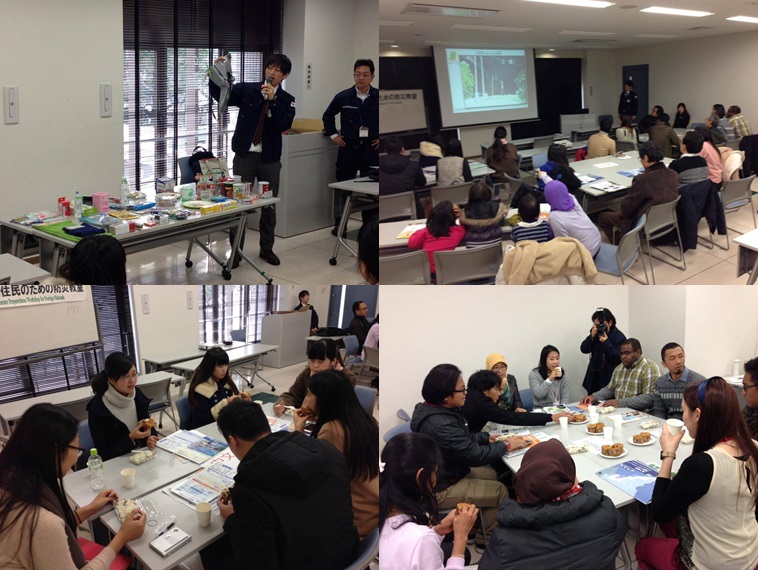 ---