Virtual Tsukimi from Yamaguchi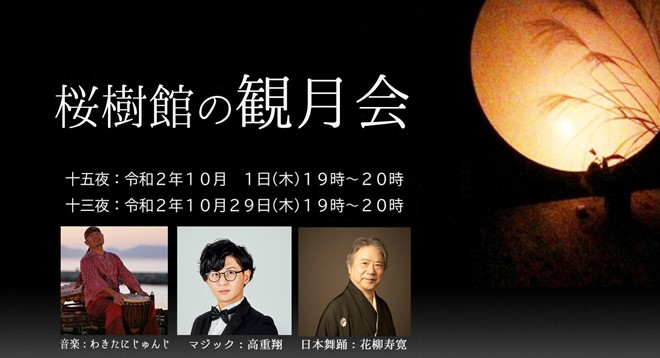 We would like to invite you to our night of tsukimi, an event deeply rooted in Japanese culture to express gratitude for the harvest and admire the beautiful autumn moon. According to the traditional calendar, the full moon happens on the 15th of every month, which is why the night with the prettiest moon of the year was known as jugoya (the 15th night).
This year, the 15th night of the lunar calendar will take place on October 1st, when the "harvest moon" (chushu no meigetsu in Japanse) will shine the brightest in the sky. Furthermore, on October 29th, we will get to enjoy a beautiful moon once again on what used to be known as the "thirteenth night"of the old calendar (jusanya in Japanese), also called nochi no meigetsu ("the latter moon").
During our tsukimi session we will be joined by three artists from Yamaguchi: Djembe drum and crystal bowl percussionist Junji Wakitani; No. 3 worldwide and Japan's top magician Sho Takashige, also known as Little Giant; and Jukan Hanayagi, the seasoned and innovative nihon buyo dancer who has performed in many venues outside of Japan and is the owner of the event's venue, Ojukan ("the Sakura Pavilion").
Miss. Gema Gálvez, who works for Yamaguchi Prefecture, will take care of the Japanese-Spanish interpretation during the sessions.
Due to time zone difference, we will record the sessions and will later upload them for those who could not join us live.
Get a cup of your favorite drink and join us for a pleasant moon-viewing night.
【First session】 Japan time: Thursday, October 1st, 7:00 p.m. – 8:00 p.m.
【Second session】 Japan time: Thursday, October 29th, 7:00 p.m. – 8:00 p.m.
・Honolulu: 0:00 a.m. to 1:00 a.m.
・San Francisco: 3:00 a.m. to 4:00 a.m.
・Sao Paulo: 7:00 a.m. to 8:00 a.m.
・Madrid: noon to 1pm
★Please fill out the form to join the event
English: https://forms.gle/5S5b9C1qLx3qevFR7
---