To those who have difficulties in reading documents or staff passing on information to the parents on behalf of the school, neighbourhood associations, and municipalities.
We are translating documents such as notices distributed by schools, municipalities, and neighbourhood associations into English, Chinese, and Indonesian at no charge; in cooperation with volunteers both students and citizens.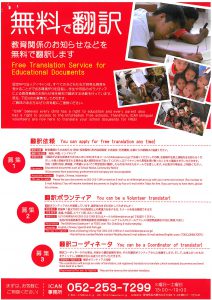 【How to use this service】
1) Please send manuscripts required to be translated to ICAN by fax at 052-253-7299 or e-mail/mobile phone email at children@ican.or.jp . If possible please do not disclose important personal information. Responding by postal mail is also available, however, we require additional time for mailing.
2)ICAN will contact you to confirm its receipt.
3)Translated document will be dispatched around a week later depending on the content, amount of manuscripts, and your request by fax, e-mail, or mobile phone email. Sending by postal mail is also available if requested.
※PDF
※ICAN URL     http://www.ican.or.jp
---