The Main Points from the Governor's Message on November 25th , 2021 regarding efforts to mitigate the spread of COVID-19
Although there have been sporadic COVID cases, thanks to the nationwide progress in vaccination, the number of cases has reduced significantly.
In Yamaguchi Prefecture, the second round of vaccinations for those who wish to be vaccinated has largely been completed in all cities and towns, and the infection situation has calmed down like the rest of Japan.
In light of this situation, and in accordance with the government's basic response policy, we have eased restrictions on travel outside of the prefecture, meals, and the number of people to be accommodated at events. However, countries like Europe that have also seen less cases with progress of vaccination rates are once again seeing a resurgence in the number of cases. Therefore, it is necessary to strengthen and enhance the medical care system and continue to take basic infection prevention measures in preparation for the resurgence of infection cases.
We would like to ask for the continued understanding and cooperation of all residents and businesses in the prefecture in order to avoid a strain in the healthcare system due to the resurgence of the infection cases.
◆To prevent the further spread of COVID-19(Request to the residents of Yamaguchi Prefecture)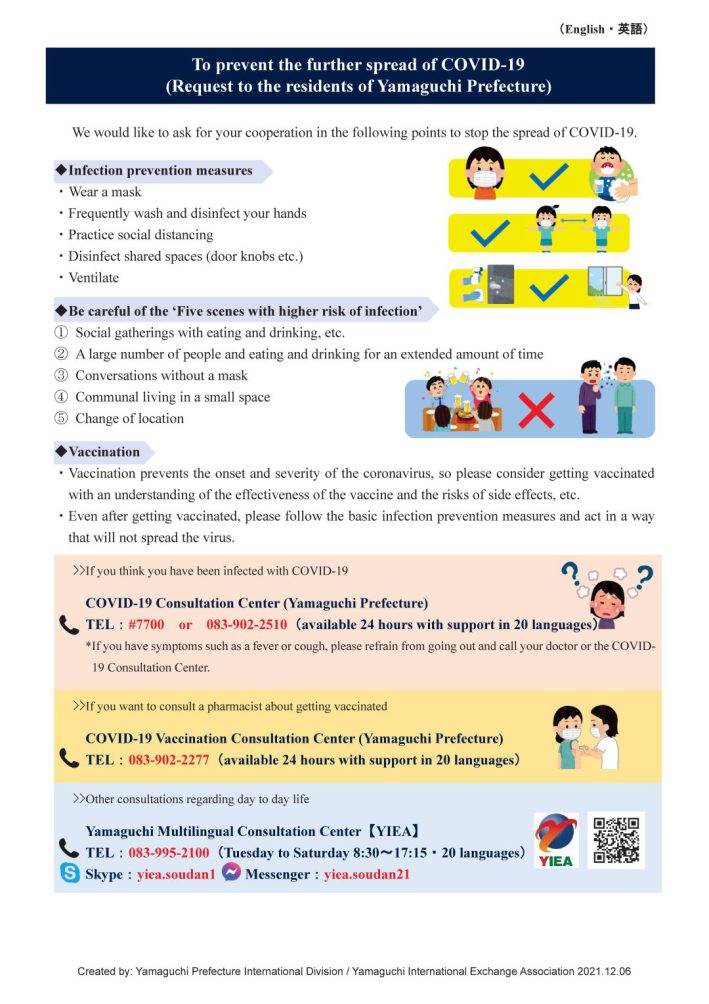 ---