Online Japanese Classes【October 2023-February 2024】
You can study Japanese necessary for daily life, such as talking about yourself and other basic communication.

Classes will be held on Zoom. You are responsible for providing your own computer and internet access.
There is no fee.
You can choose to join either the Starter Class or the Elementary 1 Class.
A certificate of completion will be issued to those who have participated in at least 10 of the 16 sessions.
「Starter (A1) Class」
October 19th, 2023 to February 15th, 2024 Every Thursday from 10 to 12 AM (16 sessions total) ※No class on 11/23, 1/4
「Elementary 1 (A2) Class」
October 24th, 2023 to February 13th, 2024 Every Tuesday from 7 to 9 PM (16 sessions total) ※No class on 1/2
【Who can register】
・People who live or work in Yamaguchi prefecture
・People who have difficulties attending local Japanese language classes
・People who have a computer, tablet, or smartphone and can use Zoom
・People who can participate in at least 8 of the 16 lessons
・People who can read hiragana and katakana
【Where to apply】
Please apply via the application form https://forms.office.com/r/mdZSG08ZAN
Deadline: Saturday, October 7th, 2023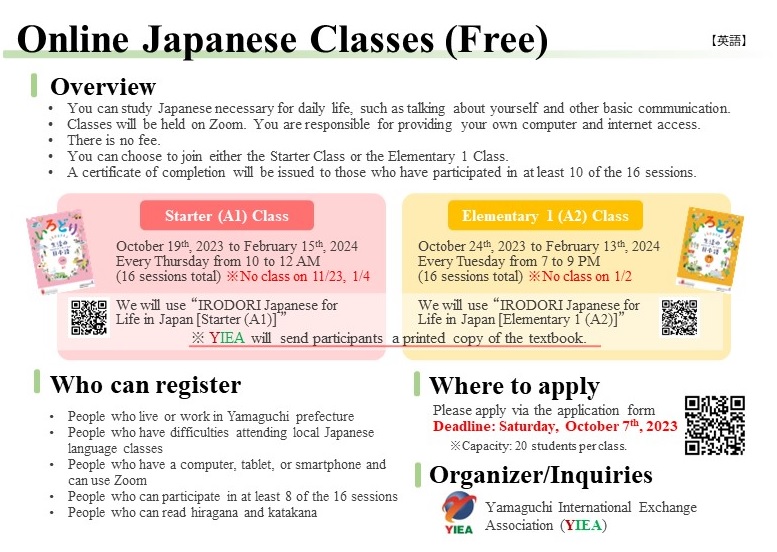 ---