Memorial Event for the 20th Anniversary of Yamaguchi International Exchange Association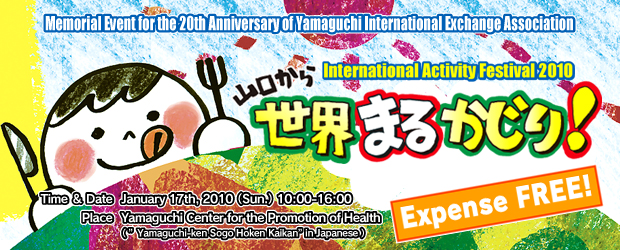 International Activity Festival 2010
〜 Let's learn & experience the world from Yamaguchi!〜
Time & Date : January 17th, 2010 (Sun.) 10:00-16:00
Place : Yamaguchi Center for the Promotion of Health
( "Yamaguchi-ken Sogo Hoken Kaikan" in Japanese )
Expense : Free
Since Yamaguchi International Exchange Association was established on January 25th in 1990, we have been working on many projects for everyone who lives in Yamaguchi prefecture in an attempt to understand various cultures of the world while participating in these projects with the hope you will realize the importance of a peaceful, rich, international society. 20 years will have passed in January, 2010 since the establishment of Yamaguchi International Exchange Association.
We will hold an event to celebrate 20th anniversary with the cooperation of many international organizations in Yamaguchi Prefecture. We would like to meet and talk with everyone who lives in Yamaguchi Prefecture. We also would like this day to be a day to start a new period.
Come join everyone with your friends and family. We are waiting for you!
---