Main points from the Governor's message on July 15, 2022 regarding efforts to mitigate the spread of COVID-19
With the emergence of Omicron BA.5 variant and the reduction of vaccine prophylactic effect, the number of newly infected persons in the nation as well as in Yamaguchi has been on the increase since the end of June, reaching a record high, and we are now in the seventh wave.
With summer vacation approaching, school club activities and sports activities will become more active, and the Bon Festival will be a time of particularly active human movement. To prevent the further spread of infection, we ask that all residents and businesses in the prefecture take the following measures to prevent infection, including taking all basic infection prevention measures.
●Thorough implementation of infection prevention measures
Regardless of whether you have been vaccinated or not, we ask that you continue to practice the 'New Lifestyle Example,' and avoid the 3 Cs, and thoroughly implement basic infection prevention measures such as wearing masks when speaking, diligent hand washing/hand disinfection, disinfection of common areas, and regular ventilation.
* When wearing a mask, please be careful to avoid heat stroke.
Please refrain from going out or to crowded places where the risk of infection is high.

When going out, please use facilities that comply with the infection prevention guidelines placed for each industry, and when eating out, please use those granted with the "Yamaguchi Safe Restaurants" certification and cooperate with the infection prevention measures required by the restaurants.
In particular, we ask that you take thorough precautions against infection when dining together, such as avoiding the 3Cs and wearing a mask when conversing between meals.
If you have even the slightest suspicion of infection, such as a fever or cough, avoid going out or coming into contact with people, and promptly consult your family doctor or a consultation center.

If you are concerned about infection even if you are asymptomatic, you can take a PCR test or antigen qualitative test at a local pharmacy designated by the prefecture or a centralized PCR test at a city or town office.
When traveling or dining with a large group of people, we ask that you increase your safety by proactively using vaccinations and free testing at pharmacies and other facilities. Please encourage family members who plan to return to Yamaguchi prefecture from a different prefecture to take the test before making the trip.
In light of the multiple outbreaks of clusters at schools in the prefecture, we ask all students to take thorough measures to prevent infection during club activities, before and after activities, during transportation, and when participating in competitions and other events.
●Consideration of Vaccination
Vaccination prevents the onset and severity of the coronavirus, so please understand the effectiveness of the vaccine and the risks of adverse reactions, etc., and consider additional vaccinations. In particular, young people, for whom vaccination rates are low, should consider vaccination to protect themselves and their loved ones, including family and friends.

Even after getting vaccinated, we ask that you continue to take basic infection-prevention measures and act in a way that prevents infection from spreading.
◆To prevent the further spread of COVID-19(Request to the residents of Yamaguchi Prefecture)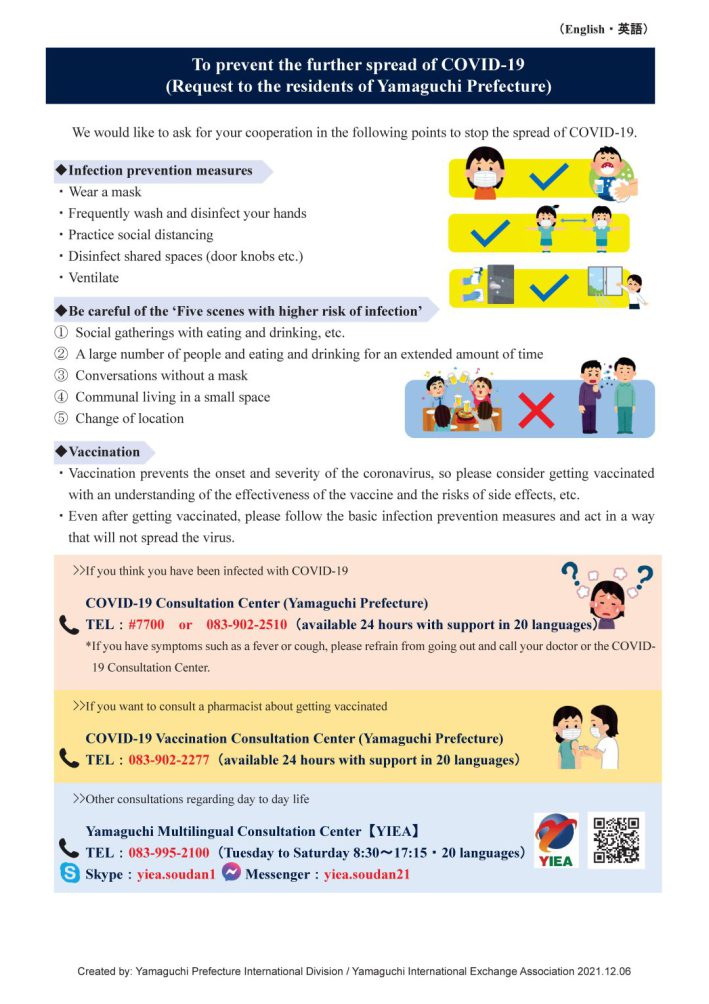 ---