Main points from the Governor's message on January 26, 2022 regarding efforts to mitigate the spread of COVID-19
The number of people infected with COVID-19 has been increasing rapidly nationwide due to the impact of the highly infectious Omicron variant.
Given the circumstances of increased infection rates throughout Yamaguchi Prefecture, with the added concern of the rapid increase of infections in neighboring prefectures, the rising the strain on the health care system has pushed the central government to extend the Quasi-State of Emergency in Yamaguchi Prefecture.
Based on this situation, we will change the currently implemented "Intensive Measures to mitigate the spread of COVID-19" to cover the whole of Yamaguchi Prefecture, and extend the implementation period from February 1st to February 20th.
We apologize for any inconvenience this may cause to residents and businesses in the prefecture, but given the extremely high infection rates of the Omicron variant, we ask for your understanding and cooperation in stopping the further spread of COVID-19 in Yamaguchi Prefecture.
★Intensive Measures to mitigate the spread of COVID-19 in accordance with the application of the Quasi-State of Emergency in Yamaguchi Prefecture: Tuesday, February 1st to Sunday, February 20th
Quasi-State of Emergency Implementation Area: All areas of Yamaguchi Prefecture
◎ Points to note when going out and traveling within the Prefecture
→Refrain from going out or going to crowded places or places with a high risk of infection.
→Avoid traveling to and from outside of the prefecture as much as possible, expect for unavoidable situations such as commuting to work, school, hospital, exams, and job hunting.
◎ Full compliance with infection prevention measures
→Comply with the basic prevention guidelines, such as avoiding the 3Cs, wearing a mask, thoroughly washing and disinfecting your hands, disinfecting common areas and regularly ventilating rooms.
→Keep your gatherings to up to 4 people.
→Refrain from using restaurants, etc. after the hours (5:00 am to 8:00 pm or 9:00 pm) to which we have requested change.
→When eating out, use restaurants that are implementing infection prevention measures, such as those granted with the "Yamaguchi Safe Restaurants" certification. Cooperate with the prevention measures required by restaurants, such as wearing a mask when talking between meals.
→If you have symptoms such as a fever or a cough, refrain from going out and consult with your doctor or the COVID-19 Consultation Center as soon as possible.
→If you are worried that you are asymptomatic and may be infected, use the Intensive PCR test which is an at home PCR kit delivery service for asymptomatic people living in the prefecture that is being operated by your municipality or go to a prefectural certified clinic nearby to get tested free of charge by either a PCR test or an antigen quantitative test.
◆To prevent the further spread of COVID-19(Request to the residents of Yamaguchi Prefecture)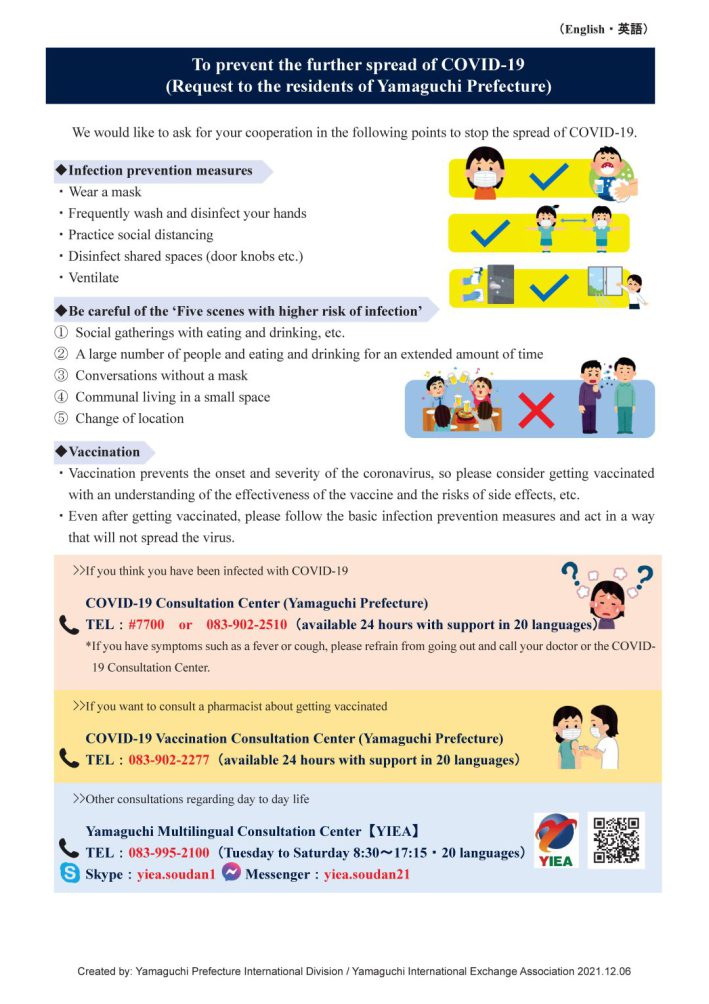 ---