Japanese Language Class for Foreign Nationals 【Hikari City】
Japanese Language Class for Foreign Nationals (Hikari City)
【Date and Time】 2020, 10/14, 10/28, 11/11, 11/25, 12/9  Wednesday 7pm to 8:30pm
【Place】 Hikari City Community Development Support Center 2nd Floor (4-14-3 Shimata, Hikari)
【Eligibility/Capacity】Foreign Nationals living in or near Hikari City /12 persons     ※Must be able to read Hiragana and Katakana
【Charge】 Free
【Content】Communication with people (self-introduction), maintaining health (going to hospitals, buying medication), safety (be prepared for accidents and natural disasters), following local rules (throwing out trash) etc.
【Application Deadline】 2020, October 6th (Tuesday) *will close once capacity is reached
【How to Apply】Please tell us your ①Name ②How to pronounce name (in katakana) ③Address ④Contact Information(TEL/Email) ⑤Nationality via TEL, FAX, or Email
【Contact】 Hikari City Planning and Coordinating Division
TEL:0833-72-1407  FAX:0833-74-1041  Email:kikaku@city.hikari.lg.jp
≪Important≫ Please wear a mask when participating. Please do not attend if you have a cough or fever. The class may be canceled if there is an increase in COVID-19 cases.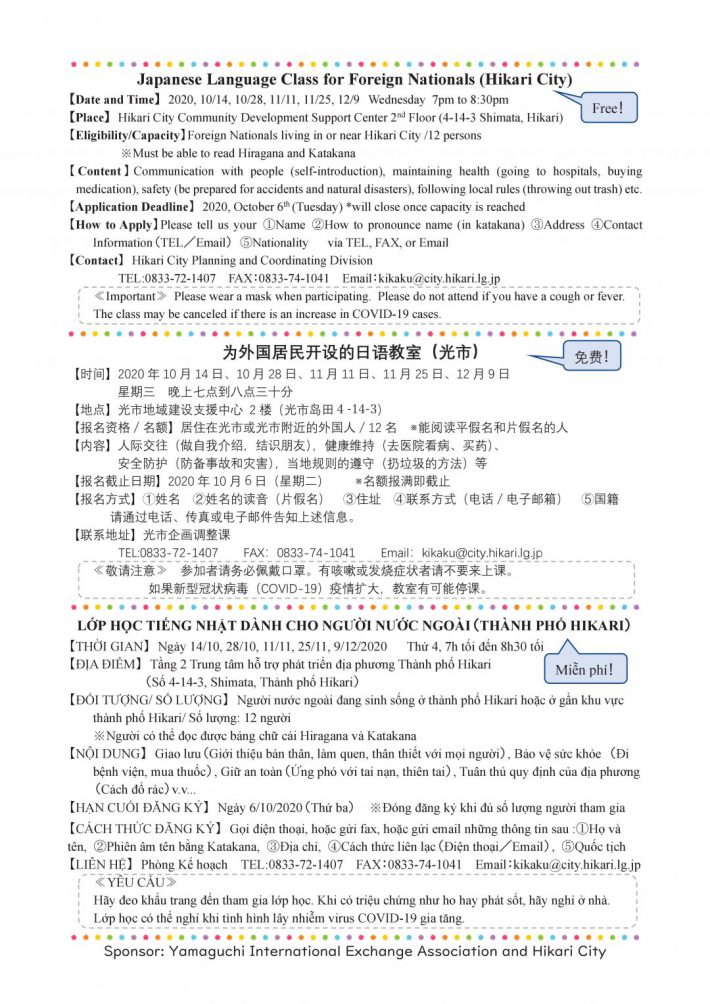 ---