The Main Points from the Governor's Message on July 12th, 2021 regarding efforts to mitigate the spread of COVID-19
A quasi-state of emergency had been declared in 10 prefectures but with considerations of the current state in infection numbers, the state of emergency was extended to August 22nd in Okinawa with Tokyo being added to the list. The quasi-state of emergency was extended in 4 prefectures including Osaka and Kanagawa.
Yamaguchi Prefecture lowered its status to stage 2 on June 24, with the improvement of the COVI-19 situation. However, with the virus still not under control in some areas and with the declaration of the state of emergency in prefectures including Tokyo, there are growing concerns of further spread of infection because of the variants.
Therefore, we ask for your understanding and continued cooperation and not let your guard down to mitigate the spread of the virus.
◆Areas declared a State of Emergency:
Tokyo and Okinawa
◆Areas declared a Quasi-State of Emergency:
Osaka, Saitama, Chiba, Kanagawa
(*From August 8th) Fukushima, Ibaraki, Tochigi, Gunma, Shizuoka, Aichi, Shiga, Kumamoto
◆PDF:To prevent the further spread of COVID-19(Request to the residents of Yamaguchi Prefecture)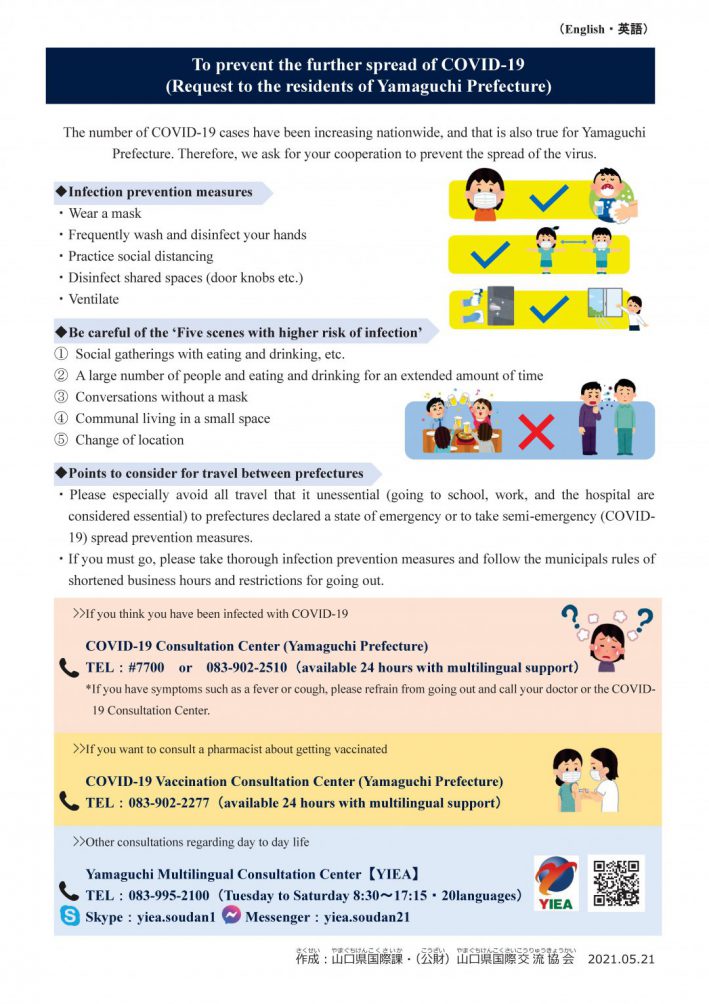 ---