Donating to Typhoon Haiyan Relief in the Philippines
Typhoon Haiyan hit the central Philippines on November 8th, causing massive damage with flooding and landslides throughout much of Leyte. 2,360 deaths have already been confirmed, and the full scale of the damage may still be larger.  In the aftermath of this disaster, the Yamaguchi International Exchange Association is collecting donations to support relief and reconstruction efforts.
Fundraising Period
   Thursday, November 14th, 2013 ~ Tuesday, January 14th, 2014
Fundraising Methods
 (1)Donation Boxes (3 Locations)
   ・Yamaguchi International Exchange Association
   ・Yamaguchi Prefectural Office, First Floor Entrance Hall Reception Desk
   ・Yamaguchi Prefecture  International Division (Prefectural Office, 8th floor)
 (2) Other
   ・We will be calling for donations at YIEA sponsored events and on our home page.
Use of Donations
   Donated funds will go to relief efforts through the Yamaguchi Branch of the Japanese Red Cross Society.
Other Notes
  We can only accept monetary donations.
<Contact>
    Public Interest Incorporated Foundation
Yamaguchi International Exchange Association
4-17-1 Yoshiki Shimohigashi, Yamaguchi City
     TEL: 083-925-7353
   FAX: 083-920-4144
     Email: yiea@yiea.or.jp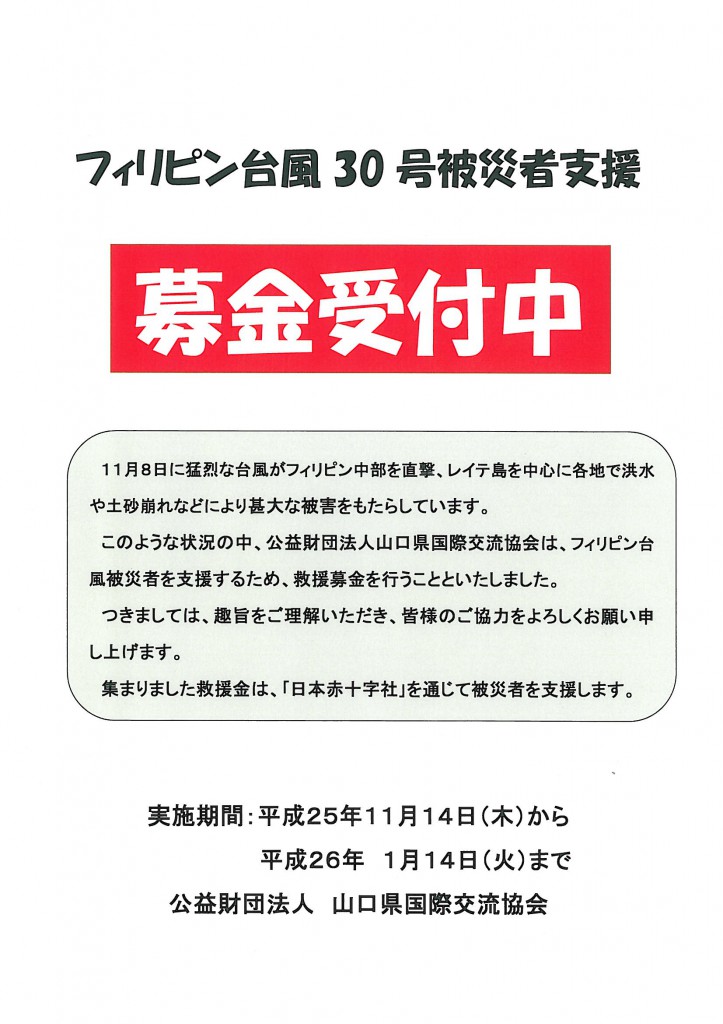 ---