Donating to the Nepal Earthquake Relief Fund
On April 25, Nepal was struck by a devastating earthquake resulting in many casualties, and rescue efforts are still ongoing. In the aftermath of this disaster, the Yamaguchi International Exchange Association is collecting donations to help support relief and reconstruction efforts.
Donation Period:
Thursday, April 30, 2015 ~ Tuesday, June 2, 2015
Donation Methods:
1) Donation boxes are available in multiple locations:
 Yamaguchi International Exchange Association
 Reception desk at the main entrance of Yamaguchi Prefectural Office
 Yamaguchi Prefecture International Division (8th Floor of the Prefectural Office)
 Yamaguchi Prefecture Sogochosha Government Buildings (Iwakuni, Yanai, Shunan, Yamaguchi, Ube, Shimonoseki, Hagi)
2) We will also be calling for donations at YIEA events and on our website.
Use of Donations:
Donated funds will go to the Yamaguchi Japanese Red Cross Society's Nepal Earthquake Relief Fund.
Other Notes:
We can only accept monetary donations.
Contact Us
Public Interest Incorporated Foundation
Yamaguchi International Exchange Association (YIEA)
4-17-1 Yoshiki Shimohigashi, Yamaguchi City
TEL: 083-925-7353
FAX: 083-920-4144
Email: yiea@yiea.or.jp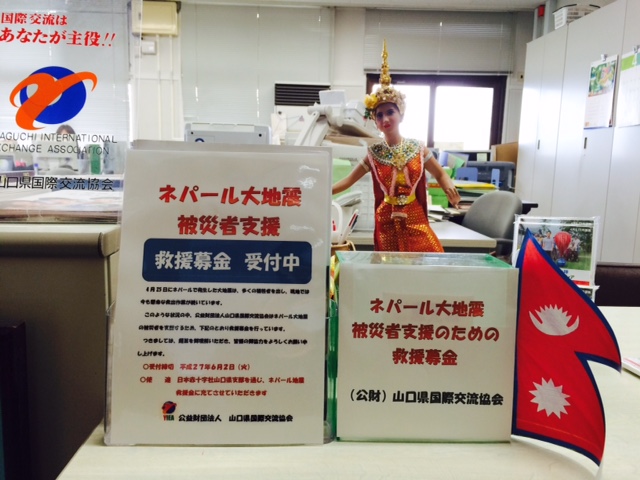 ---