Be on alert for heavy rain!
In order to protect yourself from these disasters, be prepared on a daily basis and take early disaster prevention actions with the mentality of protecting your own safety. 
1 When it rains heavily
・ Check the latest disaster prevention weather information released by the weather station on TV, radio, and the Internet.
・ Yamaguchi Prefecture will distribute disaster prevention information through 'Bousai Yamaguchi', so please check back from time to time.
・ Avoid going out unnecessarily so that you will not be involved in a disaster caused by heavy rain.
・Be on alert for disaster prevention information such as Warning Level 3 (Evacuation for the elderly, etc.) , Warning Level 4 (Evacuation order) issued by municipalities. Remember that everyone must evacuate according to the evacuation order (Warning Level 4).
・ Even if warning level 3 and warning level 4 have not been announced, if you feel something is off or it takes time for you to evacuate, evacuate as soon as possible at your own discretion.
*If an "Heavy Rain Emergency Warning (Ooame Tokubetsu Keihou)" is announced, your area is at risk of serious danger like never before, something that is only experienced every few decades. Please take appropriate action immediately, such as following the evacuation information of the municipality.
2 When evacuating
・ As a general rule, evacuate on foot and wear comfortable shoes.
・ For emergency items, put them in a knapsack, etc. and carry them on your back so that you can use both hands.
・ When flooded, pay attention to your feet and move while checking the front with a cane.
・ Talk to your family and neighbors and evacuate early.
・ If evacuation to an evacuation site is dangerous, take the safest possible actions, such as evacuating to a safe place nearby or evacuating to a high place indoors.
3 Daily preparation
・ Use the hazard map created by the municipality to check the danger points, evacuation sites, and evacuation routes in your area.
・ Consider evacuating to a safe place such as a relative's house or acquaintance's house where there is no risk of disaster.
・ Prepare an emergency knapsack for when evacuation is necessary. Prepare a mask, antiseptic solution, and thermometer, and check what you think you will need, such as medications and powdered milk.
・ Prepare at least 3 days' worth of stockpile such as water and food at each household.
Discuss the meeting place and safety confirmation method with your family so that you and your family can act without hesitation in case of emergency.
<Useful Links for Disasters (multilingual)>
Bousai Yamaguchi (Disaster Prevention Yamaguchi) 【Yamaguchi Prefecture Disaster Prevention and Crisis Management Division】
http://origin.bousai.pref.yamaguchi.lg.jp/pub_web/portal-top/
Information on Mitigation of Disaster 【Japan Metrological Agency】
http://www.jma.go.jp/jma/kokusai/multi.html
https://www3.nhk.or.jp/nhkworld/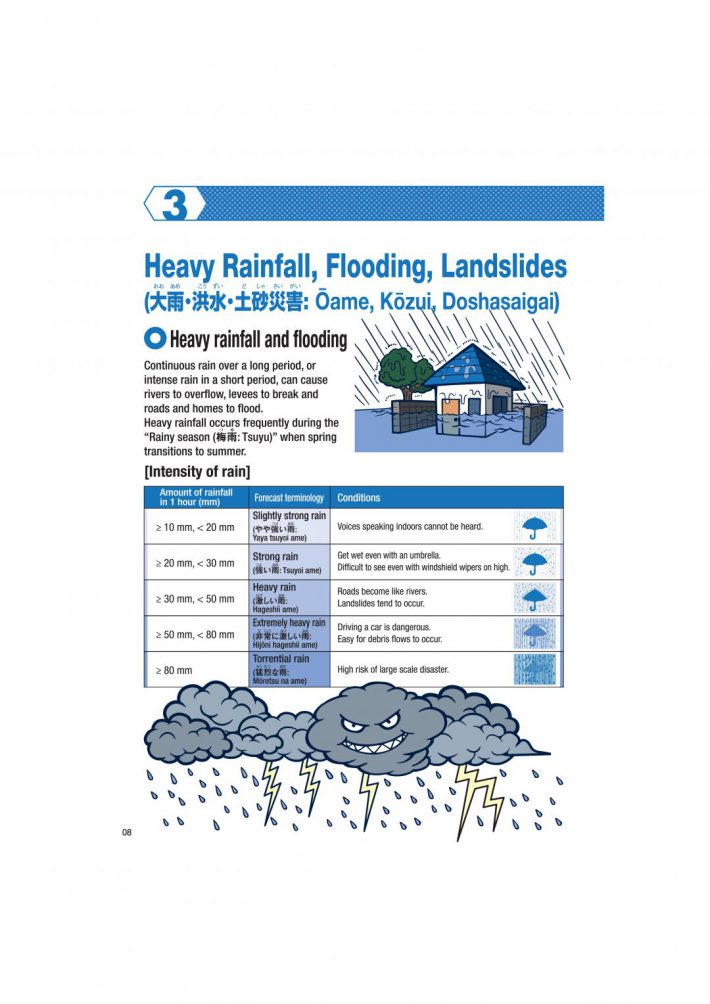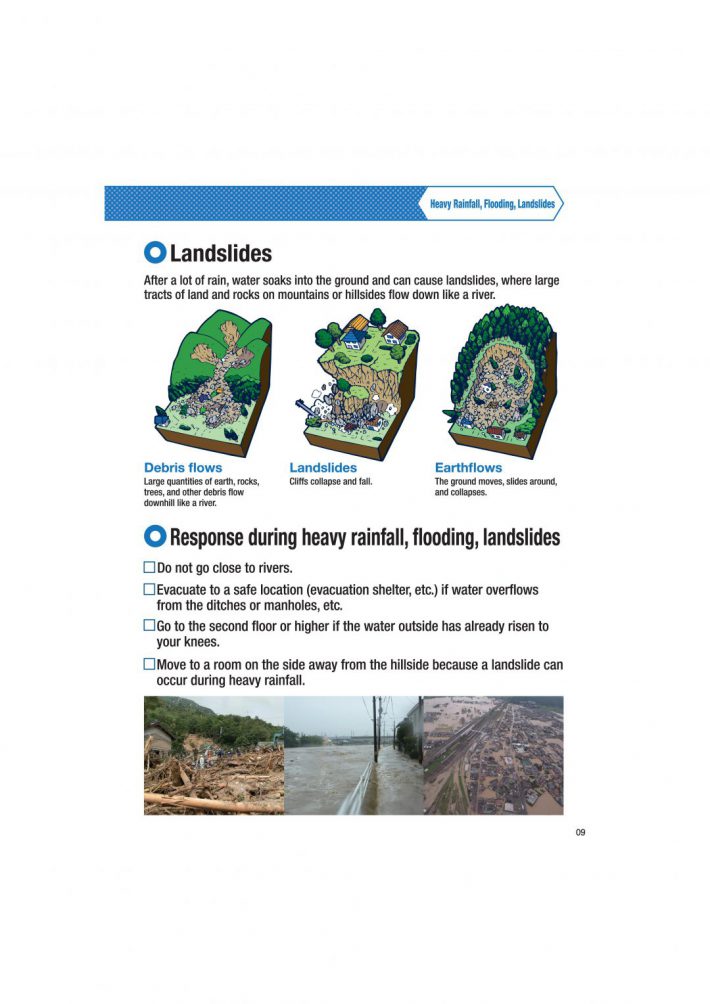 ---