There are 15 Japanese Language classes taught by volunteers within the prefecture (Shimonoseki, Ube, Yamaguchi, Hagi, Hofu, Iwakuni, Nagato, Shunan, and Sanyo Onoda)
No prior application is required. Please go directly to the venue and apply for the course. The schedule for Japanese language classes is subject to change. Please contact each classroom for class details.
Schedule of Japanese Language Classes for Foreign Nationals 2020[English・英語]
令和(れいわ)2年度(ねんど)外国人(がいこくじん)のための日本語(にほんご)講座(こうざ)スケジュール[Japanese・日本語]
2020年 面向外国人的日语讲座 时间表[Chinese・中文]
2020년도 외국인을 위한 일본어 강좌 일정[한국어・Korean]
Lịch trình về các khóa học Tiếng Nhật dành cho người nước ngoài năm 2020[Vietnamese・Tiếng Việt]
Programa de cursos de japonés para extranjeros 2020[Spanish・Espñol]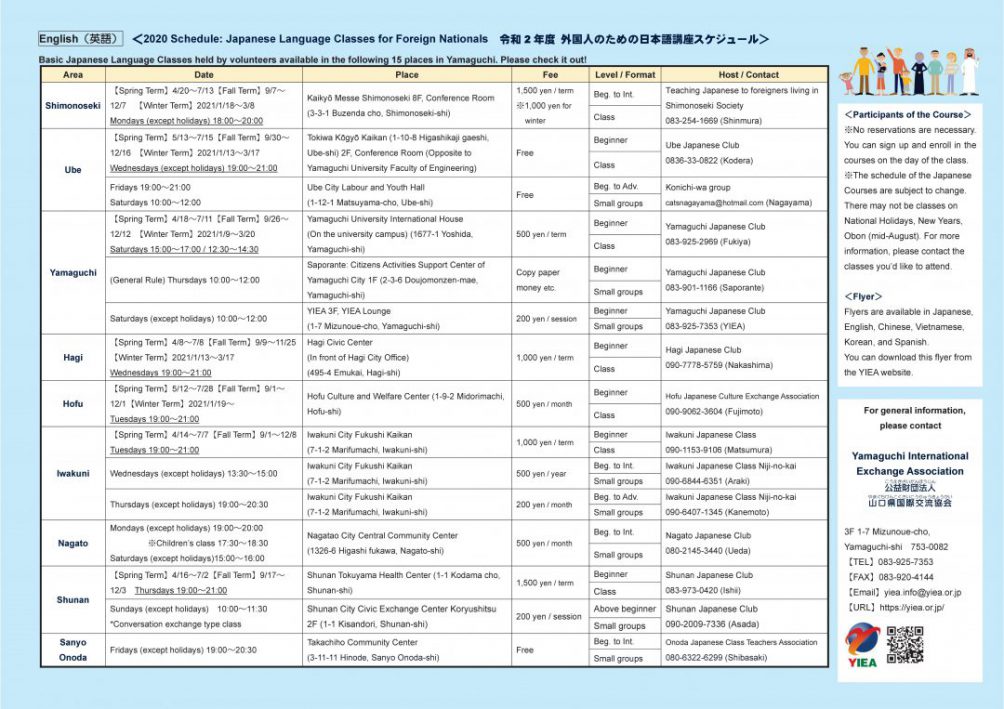 Introduction of YIEA Japanese Language Volunteer
YIEA can introduce Japanese Language volunteers to those who have difficulty attending the above Japanese language classes or those who individually want to study Japanese. The student will have lessons one on one with the volunteer. The lesson fee is free of charge in principle, but the student must bear the necessary expenses (transportation fee of the teacher, printing fee, teaching material fee, etc.). Please note that volunteers may not be found depending on the conditions.
Download Outline and Application Form
英語[English]
日本語[にほんご・Japanese]
中国語[中文]
韓国語[한국어]
Contact Us
Yamaguchi International Exchange Association(YIEA)
3rd Floor, 1-7 Mizunoue-cho, Yamaguchi City, Yamaguchi Prefecture, 753-0082
TEL:083-925-7353
FAX:083-920-4144
Email: