There are 16 Japanese Language classes taught by volunteers within the prefecture (Shimonoseki, Ube, Yamaguchi, Hagi, Hofu, Kudamatsu, Hikari, Iwakuni, Nagato, Shunan, and Sanyo Onoda).
The schedule for Japanese language classes is subject to change. Please contact each classroom for class details.
【Fee】1,000 yen → 1,500 yen
---
◆2021 Schedule of Japanese Language Classes for Foreign Nationals [English・英語]
Basic Japanese Language Classes held by volunteers available in the following 16 places in Yamaguchi. Please check it out! The place and date of the class may change due to COVID-19. Please check with the host of the class to confirm that it will take place.
◆令和(れいわ)3年度(ねんど)【2021年度(ねんど)】外国人(がいこくじん)住民(じゅうみん)のための日本語(にほんご)教室(きょうしつ)【日本語(にほんご)・Japanese】
教室に 参加する 前に、日本語教室が 開講されて いるか、確認して ください。
◆2021年度 面向外国人的日语讲座【中文・Chinese】
在县内1 6 个地点开办了由志愿者授课的日语教室。欢迎踊跃参加。由于新冠疫情的影响,开课的 日程 和地点 有 可能发生变动。上课前请事先确认 讲座 是否照常开课。
◆2021 년도 외국인 주민을 위한 일본어 교실【한국어・Korean】
현내 16곳에 자원봉사자가 진행하고 있는 일본어 교실이 있습니다. 꼭 참가해주시기 바랍니다. 코로나 1 9 의 영향으로 수업 일정이나 장소가 변경될 수 있습니다 수업에 참가하시기 전에 일본어 교실이 진행되고 있는지 확인해 주시기 바랍니다.
◆THÔNG TIN VỀ CÁC LỚP HỌC TIẾNG NHẬT CHO CƯ DÂN NƯỚC NGOÀI NĂM 2021【Tiếng Việt ・Vietnamese 】
Lớp học Tiếng Nhật được các tình nguyện viên tổ chức tại 16 điểm trên toàn tỉnh. Hãy tham gia cùng chúng tôi nhé! Do ảnh hưởng của dịch Covid-19, lịch trình và địa điểm các lớp học có thể thay đổi. Bạn hãy xác nhận xem lớp học có được tổ chức hay không trước khi đăng ký tham gia!
◆Programa de cursos de japonés para residentes extranjeros 2021-2022【Español・Spanish 】
Se ofrecen cursos de japonés impartidos por voluntarios en 16 lugares de la Prefectura.  Los horarios y el lugar donde se impartirán los cursos podrían cambiar a causa del COVID-19. Confirme si se va a realizar el curso antes de acudir a la clase.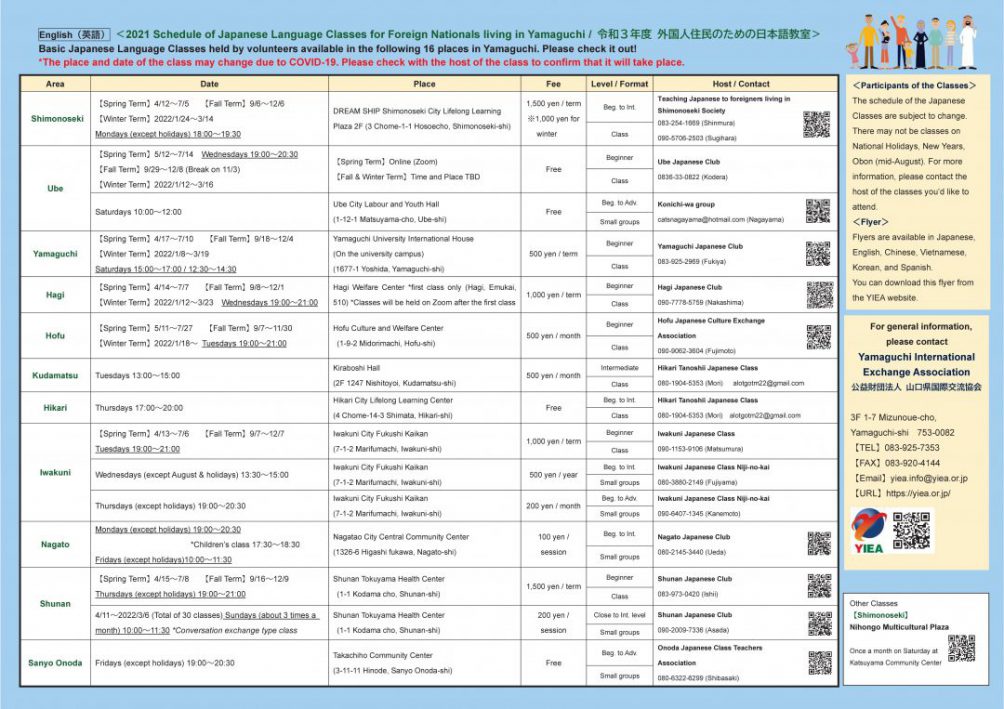 Introduction of YIEA Japanese Language Volunteer
YIEA can introduce Japanese Language volunteers to those who have difficulty attending the above Japanese language classes or those who individually want to study Japanese. The student will have lessons one on one with the volunteer. The lesson fee is free of charge in principle, but the student must bear the necessary expenses (transportation fee of the teacher, printing fee, teaching material fee, etc.). Please note that volunteers may not be found depending on the conditions.
Download Outline and Application Form
英語[English]
日本語[にほんご・Japanese]
中国語[中文]
韓国語[한국어]
Contact Us
Yamaguchi International Exchange Association(YIEA)
3rd Floor, 1-7 Mizunoue-cho, Yamaguchi City, Yamaguchi Prefecture, 753-0082
TEL:083-925-7353
FAX:083-920-4144
Email: