Yamaguchi Multilingual Consultation Center
*Consultation Calendar (google calendar)
Free and strictly confidential consultations on anything that's troubling you or on what you would like to know more about such as resident status, administrative procedure, labor, education, child care, domestic violence, medical treatment, marriage, divorce etc. Open to family members and your Japanese friends.
Languages
Multilingual Consultant
English, Chinese, Tagalog, Vietnamese, Plain Japanese
Multilingual Call Center(Interpretation)
We're able to provide assistance in other languages by using Multilingual Call Center, so please contact us.
English, Chinese, Tagalog, Vietnamese, Korean, Thai, Indonesian, Nepali, Portuguese, Spanish, French, German, Italian, Russian, Malay, Burmese, Khmer, Mongolian, Sinhala, Hindi, Bengali
Phone, Fax Number, and Skype
TEL: 083-995-2100 (For Consultations)
FAX: 083-920-4144
Skype ID: yiea.soudan1
 ←Click here for Skype
Messenger ID : yiea.soudan21(Connect with us on Messenger)
yiea.soudan21
Days offered
Hours
Tuesday
Wednesday
Thursday
Friday
Saturday
Tagalog
10:00~16:00
Chinese
English
Vietnamese
Plain Japanese
8:30~17:15
Multilingual Call Center
Closed on Holidays and New Year's period
Place
Yamaguchi Multilingual Consultation Center Conference Room at Yamaguchi International Exchange Association
(3rd floor, 1-7 Mizunoue-cho, Yamaguchi City, Yamaguchi Prefecture, 753-0082)
Access
2 min walk from Kencho Mae Bus Stop after a 5 min bus ride from JR Yamaguchi Station bound for Kencho.
Free Legal and Resident Status Consultation for Foreign Residents
Free legal consultation services by lawyers
Lawyers will hold free consultation services related to the law such as divorce and contracts.
Please reserve at least 5 days in advance
Free consultation services by administrative scriveners
Administrative scriveners will hold free consultations on resident status, visa, and other related topics.
Please reserve at least 5 days in advance.
Date
Tuesday-Saturday / 9am-4pm
Place
Yamaguchi Multilingual Consultation Center
3rd floor, 1-7 Mizunoue-cho, Yamaguchi City
Reservations and Inquiries
Yamaguchi Multilingual Consultation Center
Phone number
083-995-2100 (For Consultations)
FAX
083-920-4144
Reservations are required
Free consultations are once per person
Please contact us ahead of time if you need a translator
Map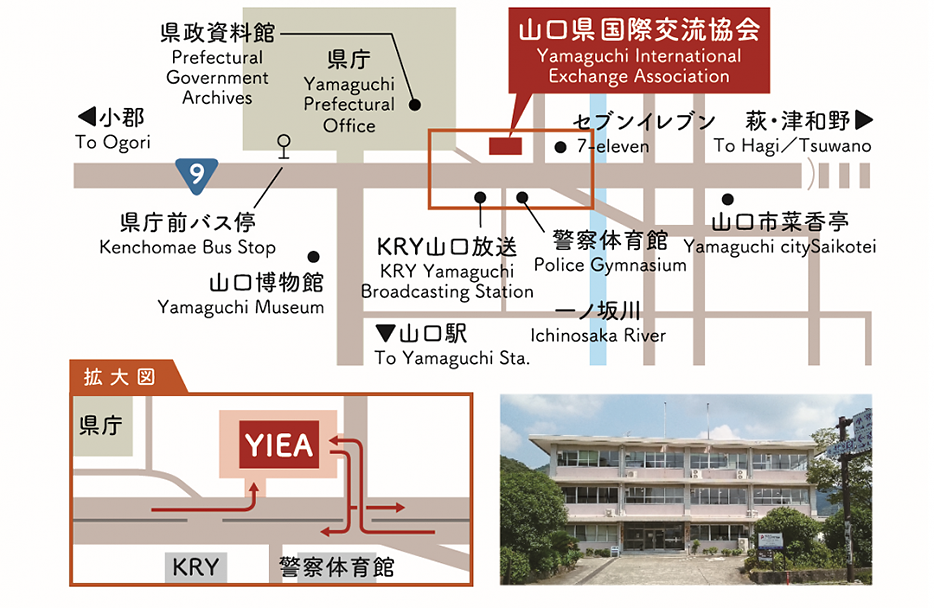 Flyer
Convenient Links
"

Yorisoi Hotline

" – Free telephone consultation for foreign residents [Social Inclusion Support Center (General Incorporated Association)]
You can talk about everyday living, domestic violence, sexual minorities, and life-threatening consultation in English.
Immigration Service Agency of Japan


You can consult about immigration procedures and residence status procedures in English.