The Yamaguchi International Exchange Association aims to create a community where both Japanese and foreign residents can live peacefully.
Address
3rd Floor, 1-7 Mizunoue-cho, Yamaguchi City, Yamaguchi Prefecture, 753-0082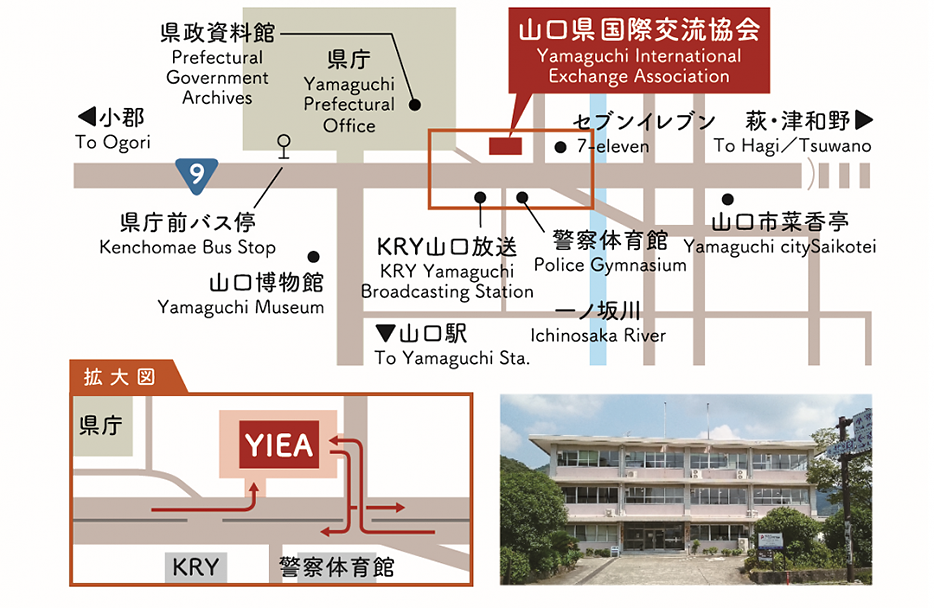 Access
By Bus:
The nearest bus stop to YIEA is "Kencho-mae".
It is a 2 minute walk from the "Kencho-mae" bus stop.
By Train:
The nearest train station to YIEA is "JR Yamaguchi Station".
It is a 25 minute walk to YIEA from "JR Yamaguchi Station".
It is a 5 minute bus ride bound for Kencho to YIEA from "JR Yamaguchi Station"
Contact Us
Yamaguchi International Exchange Association(YIEA)
3rd Floor, 1-7 Mizunoue-cho, Yamaguchi City, Yamaguchi Prefecture, 753-0082
TEL:083-925-7353 ●Hours: Tuesday to Saturday 8:30-17:15
FAX:083-920-4144
Email: