The Main Points from the Governor's Message on August 4th, 2021 regarding efforts to mitigate the spread of COVID-19
With the rapid nationwide spread of COVID-19 once again, a state of emergency and quasi-state of emergency was declared in additional areas.
The number of cases has surged in Yamaguchi, and take this as the 5th wave.
Therefore, we ask for your understanding and continued cooperation and not let your guard down to mitigate the spread of the virus.
Because the number of people traveling increases during the Obon holiday (August 13th to 16th), unless it is essential, we strongly ask for you to refrain from going to visit family or having family over from the areas declared a state of emergency and quasi-state of emergency.
If traveling is unavoidable and you have a visitor in Yamaguchi Prefecture, please urge the visitor to take care of their health from 2 weeks in advance, make use of the PCR test and get tested before coming, avoid unessential outings, and act cautiously.
In addition, we ask for you to avoid the 3Cs when going to events, tourist spots, and large shopping center with an unspecified large crowd and cooperate with the infection prevention measures asked by the host and facility.
◆Areas declared a State of Emergency:
Tokyo, Saitama, Chiba, Kanagawa, Osaka, Okinawa
◆Areas declared a Quasi-State of Emergency:
Hokkaido, Ishikawa, Kyoto, Hyogo, Fukuoka
(*From August 8th) Fukushima, Ibaraki, Tochigi, Gunma, Shizuoka, Aichi, Shiga, Kumamoto
◆PDF:To prevent the further spread of COVID-19(Request to the residents of Yamaguchi Prefecture)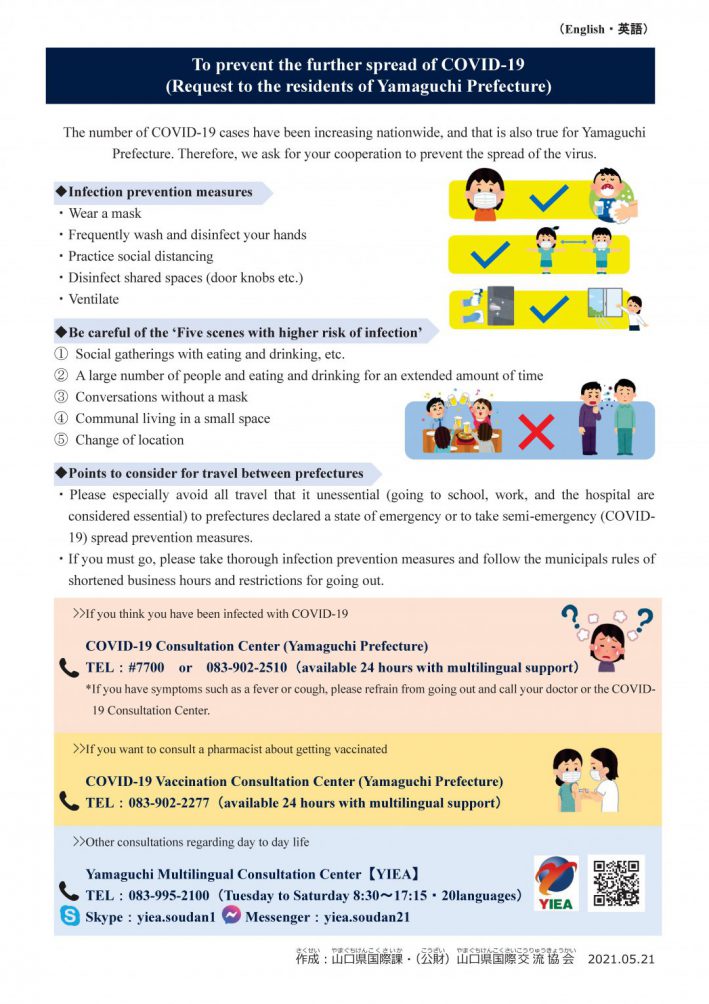 ---