Main points from the Governor's message on May 13, 2022 regarding efforts to mitigate the spread of COVID-19  
Although the burden on the healthcare system continues to be low in Yamaguchi Prefecture, the number of newly infected people has been on the increase since the end of Golden Week, and clusters have occurred at schools, senior citizen facilities, and sports activities, making the situation unpredictable.
In light of this situation, we ask all residents and businesses in the prefecture to continue to take basic infection prevention measures and to cooperate with us in the following efforts to prevent infection.
Thorough implementation of infection prevention measures
Regardless of whether you have been vaccinated or not, we ask that you continue to practice the 'New Lifestyle Example,' and avoid the 3 Cs, and thoroughly implement basic infection prevention measures such as wearing masks, diligent hand washing/hand disinfection, disinfection of common areas, and regular ventilation.
Please refrain from going out or to crowded places where the risk of infection is high.
When going out, please use facilities that comply with the infection prevention guidelines placed for each industry, and when eating out, please use those granted with the "Yamaguchi Safe Restaurants" certification and cooperate with the infection prevention measures required by the restaurants.
In particular, we ask that you take thorough precautions against infection when dining together, such as avoiding the 3Cs and wearing a mask when conversing between meals.
If you have even the slightest suspicion of infection, such as a fever or cough, avoid going out or coming into contact with people, and promptly consult your family doctor or a consultation center.
If you are concerned about infection even if you are asymptomatic, you can take a PCR test or antigen qualitative test at a local pharmacy designated by the prefecture or a centralized PCR test at a city or town office.
When traveling or dining with a large group of people, we ask that you increase your safety by proactively using vaccinations and free testing at pharmacies and other facilities.
In light of the outbreaks of clusters at club activity in schools, we ask that all students take thorough measures to prevent infection by using the checklist of measures against infectious diseases in club activities at schools.
Vaccination prevents the onset and severity of the coronavirus, so please understand the effectiveness of the vaccine and the risks of adverse reactions, etc., and consider additional vaccinations. If you have not yet received the first or second vaccine, please consider getting additional inoculations.
◆To prevent the further spread of COVID-19(Request to the residents of Yamaguchi Prefecture)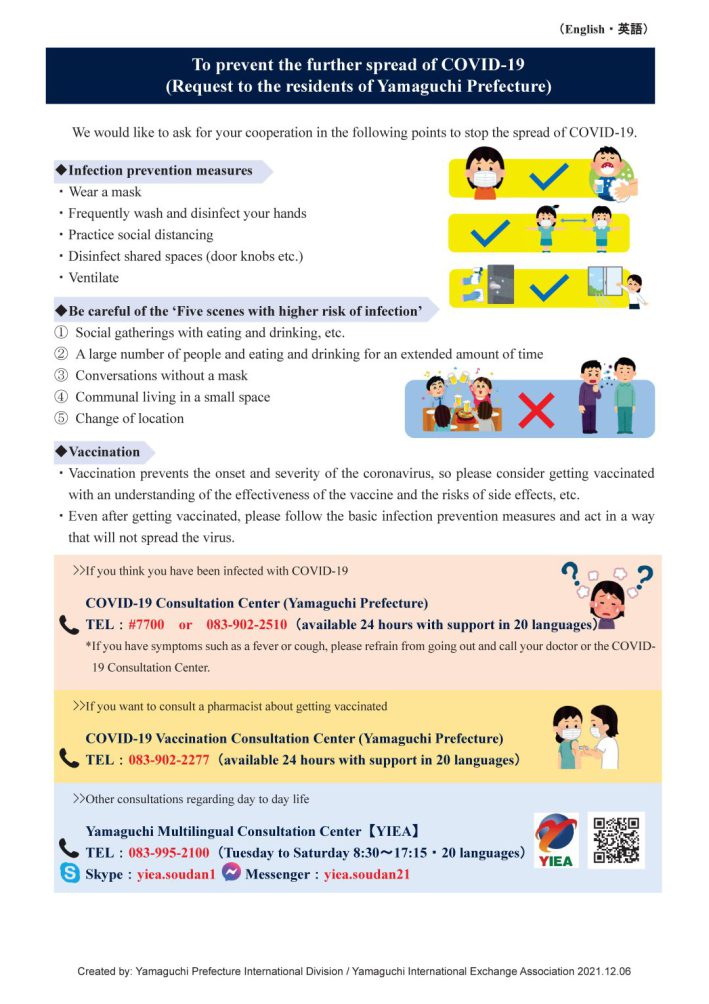 ---