Main points from the Governor's message on January 13, 2023 regarding efforts to mitigate the spread of COVID-19
Regarding coronavirus infections, the situation is severe due to the spread of the eighth wave of infection.
We would like to ask all residents and business in the prefecture to take basic infection prevention measures and cooperate with the following efforts to prevent infection.
<Infection Prevention Measures>
Regardless of whether or not you have been vaccinated, please take basic infection prevention measures such as adequate ventilation, frequent hand washing and disinfection, wearing a mask during conversation, and disinfection of common areas.
When meeting with the elderly or people with underlying medical conditions who do not live with you, please take all possible precautions to prevent infection, such as wearing masks during conversation, and refraining from visiting if there is any concern you are infected.
<Vigilance in Going Out and Traveling>
When going out, please take all possible measures to prevent infection.
If you have any symptoms of infection, such as a fever or cough, avoid going out or having contact with people, and promptly consult your family doctor or a medical consultation center.
<Measures to Take When Traveling or Dining Out>
When going out, use facilities that comply with the guidelines for preventing the spread of infection for each type of business, and when eating out, use "Yamaguchi Safe Restaurants" and cooperate with the infection prevention measures required by the restaurants.
<Use of Free Inspection>
If you are concerned about infection, even if you are asymptomatic, you can take a PCR test or antigen qualitative test at local pharmacies designated by the Prefecture or using the Prefecture's home delivery test.
<Consideration of Vaccination>
Vaccination prevents the onset and severity of the disease, so please consider vaccination based on an understanding of the vaccine's effectiveness and risks such as adverse reactions. Please, consider vaccination to protect not only yourself but also your family, friends, and other loved ones.
<Prevention of Discrimination and Prejudice Against Infected Persons>
Please do not slander or discriminate against infected persons, unvaccinated persons, front-line medical personnel, or members of organizations where people have been infected.
◆To prevent the further spread of COVID-19(Request to the residents of Yamaguchi Prefecture)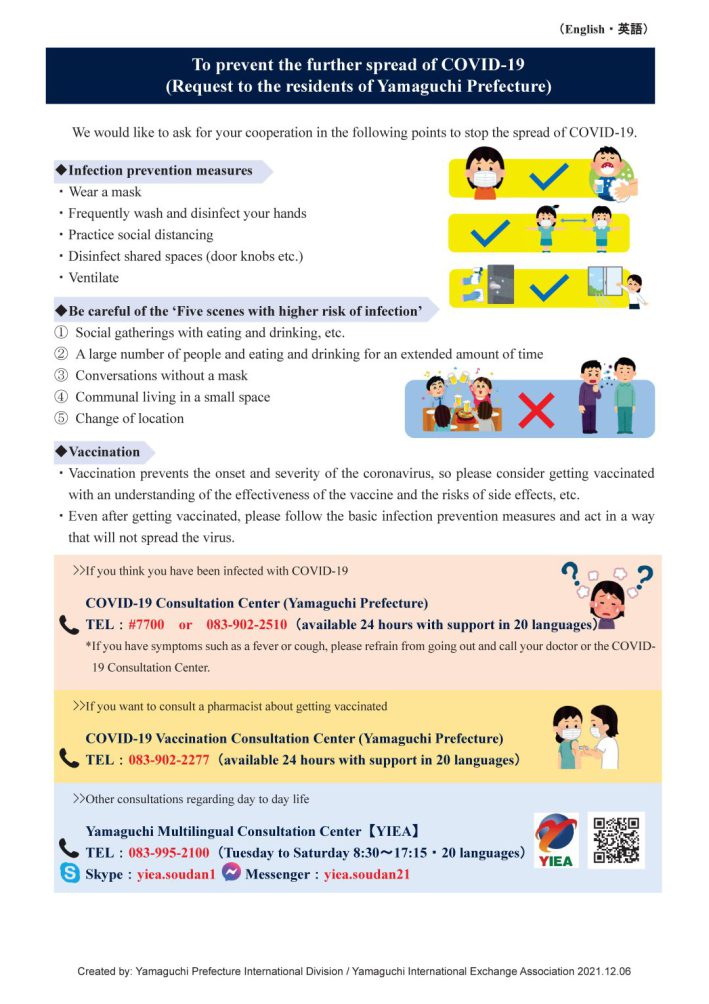 ---